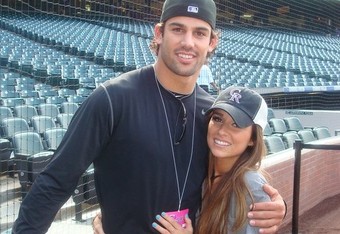 Tonight marks the start of the 2011 season coverage of "Thursday Night Football" on the NFL Network. Kickoff is at 8:20pm with the Denver Broncos hosting the New York Jets.
Well ladies, we are certainly in for a treat. As I was reading my morning twitter feed I saw a @TheJETway tweet mentioning that Denver's Wide Receiver Eric Decker's girlfriend would be singing the National Anthem at tonight's game during halftime. I had no idea the lovely surprise that was in store after I clicked to read the article. Turns out
Minnesota
native, Decker is in fact a HOTTIE! The worst part is I can't even be mad Decker is taken. Truth is I've secretly had a girl crush on his country singer girlfriend, Jesse James, since she released her first single. She's beautiful and has a great voice.
After doing a little more research on the couple I found out that Jesse was previously dating Kim Kardashian's ex Reggie Bush - I sincerely hope she doesn't follow Kim's recent relationship trend! Haha but anyway GOOD LUCK to Jesse tonight! Here's a link to her website if you are interested:
www.myspace.com/jessiejamesmusic
Unfortunately I'll be driving home to
Jersey
tonight and won't be able to watch the game. Sad really, but who knows maybe I'll have to start watching more Bronco's games and put my Mark Sanchez crush on the back burner. Thank God for 1050AM Jets Radio!
J-E-T-S JETS JETS JETS!
p.s - here's a few more shots of Denver's new hottie...